Hope For Tim Jennings
October 19th, 2015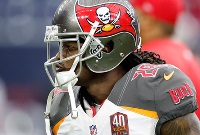 The oozing sore at the Bucs' cornerback position, hand-picked veteran Tim Jennings, is not Sabby The Goat bad.
Jennings seems to know exactly where to be on the field, explains a great source familiar with the Bucs' defense.
Joe's talking about former Tampa Bay defensive end Steve White (1996-2001). White breaks down Bucs game film like no other, and puts in the time on every game. During his appearance last week on WDAE-AM 620, White explained that Jennings actually is playing the position properly when it comes to his positioning and responsibilities — nearly 100 percent of the time.
White wanted it clear to fans that Jennings is just not making the plays, not functioning within the scheme.
The pessimist Bucs fan would say this is evidence that 31-year-old Jennings is washed up and his heart isn't in football any more. The optimist would say this is a good sign, that Jennings will bounce back and doesn't need to be coached up.
Joe just wants Johnthan Banks back to replace Jennings.