"He Wanted Some Ownership"
October 4th, 2015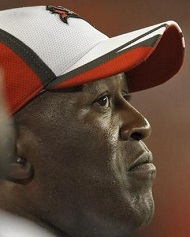 Bucs icon Ronde Barber dropped quite a nugget about Lovie Smith on today's broadcast of the Panthers-Bucs debacle.
Calling the game for FOX with Chris Myers, Barber responded to Myers talking about Lovie taking over defense playcalling this season, stripping Leslie Frazier of the duties.
"He wanted some ownership [of the defense]," Barber said of Lovie making the move.
This was very telling stuff from Barber. Keep in mind Barber sits with Lovie for private chats before preseason Bucs broadcasts, and when he calls a game on FOX. All announcers are given that opportunity, in order to have the inside scoop when they hit the airwaves.
So Lovie wanted "ownership." Joe finds it odd that Lovie didn't think he owned it previously, when Leslie Frazier was running Lovie's system with great input from the head coach. After all, Lovie made it clear it was his defense imported from Chicago, and grown in St. Louis and 20th century Tampa.
Indeed Lovie clearly owns it now. And it's messy.
Did anyone see Mike Jenkins embarrass himself today as a starting cornerback? Lovie yearned long and hard for this day, and it backfired. Tim Jennings looks slow. Alterraun Verner looks better than both of them and he rarely plays, despite being hand-picked by Lovie for top dollar.
The run defense is shoddy, and the edge rush is often hard to find.
Linebackers are Lovie's specialty, and they aren't making enough plays.
The Bucs have enough defensive talent to turn it around, especially when Johnthan Banks returns from his knee issue. If they can't, then Joe would love to know what ownership thinks of Lovie's "ownership."