Dotson, Spence Return To Practice Field
October 20th, 2015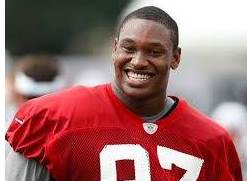 A couple of big bodies are back on the Buccaneers practice field.
Now the Bucs have big decisions to make.
Defensive tackle Akeem Spence, who needed back surgery following an offseason weightlifting accident, is back in the mix. So is former starting right tackle Demar Dotson, who wrenched his knee in the preseason opener in Minnesota on August 15.
Spence and Dotson remain on their respective injury lists but, per NFL rules, can practice for 21 days. Spence is eligible to be activated Sunday, while Dotson is eligible starting November 2.
The Bucs' big decision centers around Dotson, who lost his starting gig to veteran Gosder Cherilus, signed after Dotson went down. It's darn hard to see Cherilus getting benched unless really screws up in the next two games.
If Spence is healthy, he's young and inexpensive, and likely to stick around. Joe suspects the Bucs are shopping backup defensive tackle Tony McDaniel, a starter in Seattle the past two years. He's been quite invisible since arriving during training camp.