Another Kick In The Balls
October 25th, 2015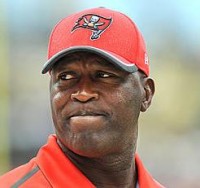 You won't find a bigger Bucs fan than Joe.
Not only does Joe love the Bucs, but Joe's livelihood is hooked to the team. Bucs win, and more fans come to the website. Bucs lose, and a percentage of fans don't want to hear, read or think about the team for at least a few days.
Simple as that, as Lovie Smith likes to say.
(Joe's got about 120 games of evidence, so don't try to claim Joe is full of crap.)
As a diehard, 24/7 Bucs fan, Joe can pronounce this loss in Washington to be an historic kick in the balls. It reminded Joe of when the Bucs choked away a lead to Nick Foles and the Eagles at home — on the day the Bucs honored the 10th anniversary of their Super Bowl win.
Greg Schiano got conservative and put the game in the hands of the NFL's worst pass defense. Predictably, Bucs cornerback Danny Gorrer dropped what would have been a game-winning interception, and then the Eagles inserted the dagger with seconds remaining.
Unstoppable Revolution
Those 2012 Bucs never recovered, and neither did Greg Schiano.
The Bucs, then 6-7, went to New Orleans the following week and got waxed 41-0.
You think that was a coincidence? A member of that Saints team, former Bucs linebacker Jonathan Casillas, said he could see the quit in the Bucs on that day. Casillas told Joe his Saints teammates were surprised the Bucs rolled over.
There have been other brutal losses since, the worst on opening day this year against a crappy Tennessee team, when Lovie was so outcoached it's a wonder he's not still pulling up his pants.
A fan base, and a coaching regime, can only tolerate so many of those landmark losses before there is unstoppable revolution.
Lovie's Only Survival Mode
Are Bucs fans nearing widespread revolt? Yes.
Joe hears the stampede, and Joe reads the texts, comments and emails from normally calm diehards.
It may not be completely fair to Lovie, as Lovie is still feeling the residual effects of a beaten down Bucs nation after Raheem Morris' 10-straight losses in 2011, followed by the Schiano-Josh Freeman train wreck and an 0-8 start in 2013.
But Lovie has made quite a messy bed for himself. So Joe has no sympathy.
Joe desperately is rooting for Lovie to stop the bleeding and become the coach he was in Chicago before his own collapse of 2012, when his 7-1 Bears finished 10-6 and missed the playoffs.
Right now, however, there is no evidence Lovie ever recovered from that debacle.
Joe is confident Team Glazer sees the reality facing Lovie over the final 10 games.
Lovie announced one primary goal when he arrived in Tampa: get the Bucs "relevant" again.
That shouldn't take three years.
After losing to a bad Redskins team today, Joe's not seeing how Lovie will make the Bucs relevant this season. Even with Jameis Winston having a great day, and Doug Martin running wild, the Bucs still lost.
Joe believes today was the last historic kick-in-the-balls loss anyone should tolerate from Lovie's Bucs this season.