A Word About Mike Evans' Hamstring
October 13th, 2015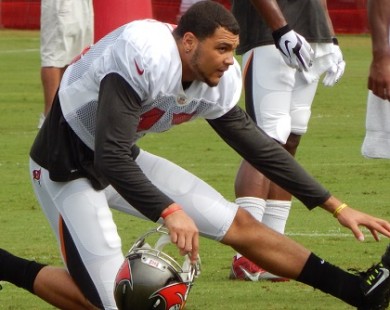 In the hours prior to Sunday's forgettable Mike Evans performance against the Jaguars, the Bucs' second-year wide receiver said he heard those questioning his game and stating it was in decline since November 2014.
Evans touched on this subject during his Buccaneers Radio Network show Thursday evening.
Evans said he didn't really make sense of that and didn't spend time thinking about it because he was too focused on performing one game at a time.
Also of note, Evans took a fan question about what he does to continue rehabilitating his healing hamstring, and Evans replied that his hamstring is 100 percent already so that's a non-issue, though Evans explained that he's focused on training to prevent future hamstring woes.
Joe mentions this today because Joe has heard — and seen — many fan comments questioning whether Evans really is healthy after the hamstring issue that shelved him for about a month — much of preseason and some regular-season action.
Barring something new occurring against the Jags, Evans is 100 percent. His problems, it seems, are mental. Why else would he not be squeezing footballs? And perhaps, defenses are catching up to him a bit, which often happens to second-year players.
For those who want more evidence of Evans' health, watch him bounce up and down like a rabbit when Lovie Smith tells the team they got Monday and Tuesday off.