Trading Glennon, "That's Your Goal."
September 8th, 2015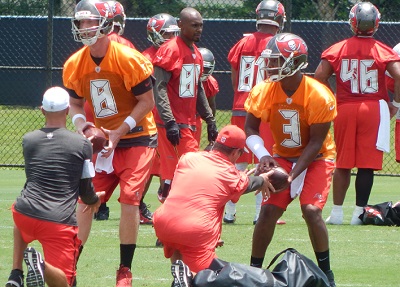 The newest Bucs quarterback is evidence Saints head coach Sean Payton had a traumatic brain injury, says a former Buccaneer.
That's the word from Shaun King, one of three quarterbacks to lead Tampa Bay to the NFC Championship game.
King joined Ronnie and TKras on WDAE-AM 620 this morning and explained that the Bucs putting a third quarterback on the 53-man roster, via the weekend waiver claim of Ryan Griffin, is a good thing for Tampa Bay and a head-scratcher for New Orleans.
"I think Sean Payton should join the concussion lawsuit. Anytime you keep Luke McCown over a young player with Ryan Griffin's ability and [film], I think you need to have your head examined," King said.

"Having said that, I think Ryan is a young player with a lot of potential. I watched him at Tulane. Never really was surrounded with great personnel, but continued to get better. If you go and look at his performances in the preseason the last two years for New Orleans, he played extremely well. So I'm glad that he's here.

"I think he's someone, you know, that if he continues to develop, will make it so that Mike Glennon could be a trade piece moving forward. Maybe acquiring an offensive lineman or a pass rusher in exchange for Mike Glennon. So I think ultimately, if you're the Bucs, that's your goal. Try and get something of value for Glennon before he hits the free agent market."
Of course, Joe agrees with the goal of trading Glennon. Joe's written about it multiple times.
Nothing great will come of Glennon playing out his contract and moving on for the 2017 season. If Glennon could fetch a solid young player, one that actually plays regularly, or, for example, two fourth-round draft picks, then make the deal.