Titans Watch: Five More Days
September 8th, 2015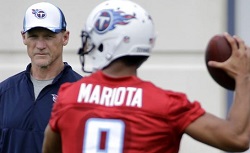 Joe's already called opening day against the Tennessee Titans on Sept. 13 in Tampa a "must-win."
It's not a must-win for the standings. Duh. But it is necessary for the psyche of a fan base that hasn't seen a home victory since 2013, and compares Jameis Winston to Marcus Mariota.
For those who didn't take a preseason look at Titans rookie quarterback Marcus Mariota, the target of defensive shot-caller Lovie Smith on Sunday, here you go. The video below is from the Week 2 preseason game against a stout Rams defensive front.
Mariota finished the preseason by leading his offense to five scores on 11 drives. Jameis was four of 21.