The Trainwreck Of 2014
September 4th, 2015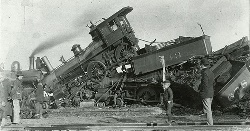 As Joe likes to tell friends, "In the end, things work out."
So Joe uses that philosophy when looking back at the complete and total trainwreck that ensued from virtually the moment Lovie Smith took the podium as the new Bucs coach — to the team walking off the field after losing (winning, actually) to the Saints to end the horrific 2-14 season.
Goodbye, Donald Penn; hello, Anthony Collins.
Goodbye, Jeremy Zuttah; hello, Evan (Dietrich-) Smith.
Goodbye, Darrelle Revis; hello, Alterraun Verner and Mike Jenkins.
Sit down, Mike Glennon; welcome, Josh McClown.
Oh, and the defense? Feel free to meet Ghost Johnson.
Aside from picking up Mike Evans in the first round, damn near every major move the Bucs made blew up in their face like a child playing with gunpowder. Drunks couldn't try to make as many mistakes.
Colllns, Johnson and McClown were quickly jettisoned as if they had the MRSA.
Last night, while appearing on the WFLA-TV Channel 8 broadcast of the Bucs-Dolphins game, Bucs AC/DC-loving general manager Jason Licht sort of apologized for having a hand in one of the worst chapters in Bucs history, and confidently said he learned his lesson the hard way.
"A lot of the things that Lovie and I did last year wasn't really reflective of what we wanted to do," Licht said, without giving details.

"We went out and we had a lot of money [to spend]. A lot of times [going drunken sailor in free agency] doesn't work out and we know that. Especially myself with my background and coaches that I have worked for is that you build through the draft. And that's how you build your team. You get your cornerstone players through the draft, and then you can chip away at free agency. Get some nice players that are middle-range free agents like Clinton McDonald and [Alterraun] Verner and those types of guys."
This is why the Bucs didn't sign any big-named free agents this year, and instead looked for role players that fit offensively and defensively. Licht noted that in a perfect world, you acquire your best impact players in the draft.
That's the smart way to do it. But it was sort of refreshing for Joe to hear a general manager on live TV admit the sins of the past and lay out for Bucs fans how he plans on fixing things to build for a brighter future.
Yes, 2014 was horrible. But Joe believes it will all work out in the long run.
Why hello, America's Quarterback, Jameis Winston.