Silver Lining: Ali Marpet
September 15th, 2015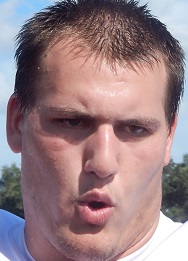 There was a constant through the endless Bucs training camp practices: rookie guard Ali Marpet got noticed, grinding play after play to the final whistle.
Yeah, Marpet was seen getting schooled — see Browns preseason game for more of that — but Marpet showed the talent and drive to be a winner.
The converted Division III left tackle, the pride of mighty Hobart College, was a one of a few bright spots on the Buccaneers in Week 1. Much like in training camp, Marpet made a couple of ugly mistakes, but he was a force in the running game.
Lovie said so on his radio show yesterday. Former Bucs tight end Anthony Becht has been lauding Marpet. Even former Bucs guard Ian Beckles, who ripped the Bucs' O-line on sports radio, had a little love for Marpet's game.
Before Sunday, Marpet talked to Joe about how eager he was to play 60 minutes and test his physicality against the men of the NFL.
Marpet was confident he would come out stronger and shining. And he did.