Saints Are Two Touchdowns Better?
September 18th, 2015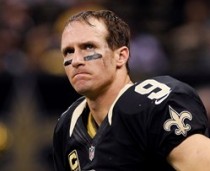 Joe can't find any objective observer picking the Buccaneers to win Sunday at the SuperDome.
The typical takes is, 'Marcus Mariota carved up the Bucs' defense win no experience. What will Drew Brees do?'
Three intelligent NFL types feel the same way. They're hammering the Bucs' inept defense. Joe's talking about the CBS crew of former NFL quarterback Brady Quinn, who was a color analyst on Bucs games last year, prickly Pete Prisco and Pat Kirwan, the former Bucs scout, and Jets personnel man and linebackers coach.
In the CBS video, the three join together in breaking down the Bucs-Saints game. Each has the Bucs losing by 13 or 14 points.
At one point in the video, Quinn interrupts Prisco and barks that Jameis Winston, America's Quarterback, has no help.