Ronde Rings In Lavonte David's Head
September 29th, 2015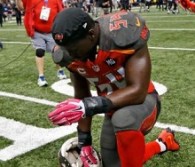 It's been a rough start to the season for Lavonte David. The $10 million-per-year linebacker ranks tied for 138th in the NFL for solo tackles. He's perennially been a top-5 guy in that department.
It's also been two out of three poor outings for the Tampa Bay defense.
Yesterday, David said many times at One Buc Palace and on his radio show that it's an "easy fix' to right the Bucs' ship.
He emphasized on the Buccaneers Radio Network that it wasn't the mighty Texans running down the Bucs' throat, it was the Bucs not being technically sound.
David explained that Ronde Barber's words, a pure play-by-play mentality, are ringing in his head.
"Ronde Barber once told me this: 'Whatever defense is called, we have to own that defense, and everybody has to do what they're supposed to do within that defense in order to make it work,'" David said.
Translation: guys must buy in mentally and physically on every single snap. It sounds easy, but it's difficult for these Bucs.
Joe desperately hopes David is right when he says it's an "easy fix."