Positive Jameis
September 3rd, 2015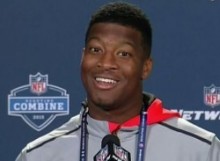 Saturday night, Bucs fans were doing two things: Puking all over their living room rugs or trying to beat the crowd to the Sunshine Skyway Bridge.
In what was believed to be the dress rehearsal for the regular season, the team looked in need of a collective chug of Kaopectate.
The offensive line would have scared Freddy Krueger and the defense played uneven. At times dominant, and at times it allowed the Browns offense — led by Josh McClown of all people — to drag it down the field on drives of 78 and 80 yards.
Through it all, America's Quarterback, Bucs signal-caller Jameis Winston, remained above the fray. Positive. Glass is half-full.
That's the word from Yahoo! Sports Eric Adelson, who wonders if Jameis is truly that sincere, that he can he see light when there is darkness. Or is it just a front?
This is Winston's most admirable quality. Where everyone else sees a harbinger of a dreadful season, he'll find five plays that can potentially serve as a launching pad of learning. "We saw what we're going to see during the season," he said. "That's definitely helping us out."

Is it all an act? Possibly. But it's a very consistent act, and it's convincing. He got into what must have been a dour huddle on Saturday and repeated what has already become a refrain: "Hey, guys, this is just the beginning!"

"He's always positive," Fragel said. "Always upbeat, never negative. That's good for a quarterback, it's good for a team."
As Adelson rightly asks, will this sunny disposition of Jameis be beaten out of him by, say, Halloween?
Let's face it, thus far in three preseason games, teams that have had sucess against Jameis have blitzed heavily up the middle, in the A-gaps in particular.
There is a very real likelihood Jameis and the Bucs are going to see a steady diet of these blitzes until or unless the Bucs show they can slow them down, so Jameis can step into the pocket and throw.