Peter King: Edge Jameis
September 30th, 2015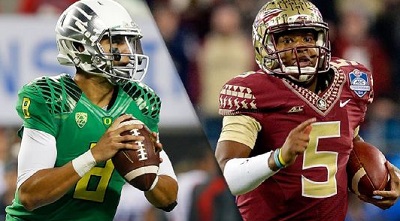 An esteemed national columnist, reporter and TV personality has studied this year's big rookie quarterbacks and gives Jameis Winston, America's Quarterback, the edge through three games.
Joe's talking about Yogi Berra-worshiping, urinal picture-taking, video game-playing, Taylor Swift-listening, pickpocket-thwarting, Bucs-uniform-frowning, Allie-LaForce-smitten, Big-Ten-Network-hating, pedestrian-bumping, olive oil-lapping, popcorn-munching, coffee-slurping, fried-chicken-eating, oatmeal-loving, circle-jerking, beer-chugging, cricket-watching, scone-loathing, college football-naïve, baseball-box-score-reading, NPR-honk, filthy-hotel-staying, fight-instigating, barista-training Peter King, of Sports Illustrated and NBC Sports fame.
King hopped on WDAE-AM 620 this morning and proclaimed that Jameis is performing better under pressure from defenses through three games than Marcus Mariota. He gave the nod to Mariota in Week 1, obviously, but says Jameis won the last two weeks.
It's King's opinion that answering the question, "who can deal with the pressure?" will define the quarterbacks this season.
King was talking strictly Xs and Os, not off-field considerations. He's currently leaning Jameis.
Joe always tries to share the major national perspective on the Bucs, and it's always fun to wag a finger at the senseless Jameis bashers.