No Defense For Shoddy Run Defense
September 13th, 2015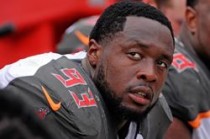 After the Titans bolted to a 21-0 lead behind their passing game and pick-6 of America's Quarterback, Jameis Winston, it was pretty clear what was coming next.
That would be a steady diet of running the ball against Tampa Bay.
Presumably, the Bucs knew it was coming, and they couldn't stop it.
Titans running backs Bishop Sankey and Terrance West, hardly a Pro Bowl duo, combined for 25 carries and 115 yards. That's more than 4 1/2 yards per carry. Run defense and strength at defensive tackle is/was supposed to be the worry-free area of this Bucs' defense. But the Bucs were beaten up the gut.
There's really no explanation.
Manhandled at home by a football unlikely to be considered average when January rolls around.