Mark Dominik Talks Jameis
September 22nd, 2015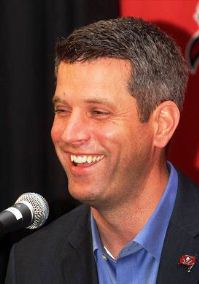 Bucs fans were giddy about how the pewter pirates seemingly rose from the dead and punked Drew Brees in his own crib.
It was a nailbiting, exhilarating win, and Bucs fans are drinking in the good vibes.
One guy who seemed impressed was former Bucs rock star general manager Mark Dominik. Hosting a wrap-up show on SiriusXM NFL Radio, Dominik lauded the effort.
"The Bucs battled through this one and ran the ball fairly effectively," Dominik said. "Jameis Winston, the big thing I sit there and tell everybody about young quarterbacks is with young quarterbacks, don't turn the ball over and give your team a chance to win.

"Jameis made a couple of really special throws this game I thought to put this team ahead, and being able to hold up for a victory.

"I have to give a lot of credit to the Bucs defense. They played really well. Force Drew Brees to throw under pressure. He didn't make lot of great throws. And at the end of the game, when [the Saints] had a chance there, they just didn't convert. They didn't look comfortable." The Bucs did a great job. I don't care what happened Week One. The Bucs came out in Week Two and played a Saints team at home and they won."
This is a high compliment for America's Quarterback, Bucs signal-caller Jameis Winston. Dominik, leading up to the draft, made no secret he would have steered clear of young Jameis, and instead would have pounced on Marcus Mariota.
So for a guy who was not in Jameis' corner to say how Jameis had special throws, that is a pretty high praise.