Lovie Identifies "Really What Kick Started The Win"
September 20th, 2015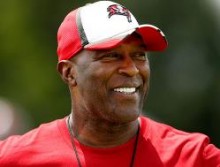 The Bucs are going to play Lovieball or die trying, and that's why the head coach was all smiles this afternoon in New Orleans, following the Bucs' silencing of the Saints.
Lovie got his treasured takeaways. His pass rush was alive and executing.
But with confidence and certainty, Lovie told media the running game, the success of Doug Martin and Charles Sims, was "really what kick started the win."
Joe finds that interesting insight into the head coach.
Sims and Martin were a combined 29 carries for 116 yards, and Martin coughed up one key fumble. The success freed Jameis Winston, America's Quarterback, up for legitimate play-action, and the offensive line often run blocked like it was 2012.
Pound the rock!