Dilfer: "Panic" Seen In Jameis' Feet
September 29th, 2015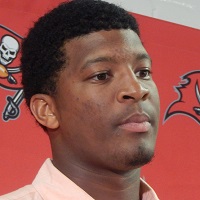 Before and after the NFL Draft, there might not have been a bigger backer of Jameis Winston, America's Quarterback, than Trent Dilfer.
Dilfer spent time with Jameis when he was a kid, and he remains a big Jameis supporter. But the former Bucs and Super Bowl quarterback said Jameis isn't exactly where he thought he'd be at this time.
Speaking on Ron and Ian on WDAE-AM 620 today, Dilfer explained that Jameis' feet are inconsistent.
"A lot when you watch young quarterbacks, you're kind of just watching their poise, their presence, the quietness of their feet," Dilfer said. "I don't mean their feet don't move, but there's not a panic in their feet. I've seen that with Jameis. I don't think he's growing as fast as I thought he would, but I do see growth."
Again, Dilfer thought Jameis was an All-World prospect. So Joe doesn't take this as anything more than Dilfer soaking in the reality of rookie quarterbacks. They need to adjust, adapt and develop.
Dilfer added that he sees growth in Jameis since Week 1 and he looks comfortable often.