Jameis Winston Is Expecting Emotional Pain
September 11th, 2015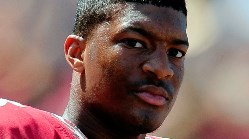 Jameis Winston, America's Quarterback, made a gesture of agony touching near his abdomen this week.
It was a fun and telling moment as he closed his news conference at One Buc Palace.
Jameis was asked about his vision for the season opener on Sunday, and Jameis talked a little Xs and Os, and how painful they can be at times for a gunslinger who wants to make a play.
"First of all, I visualize getting a win – just making the right decisions," Jameis said. "I don't really focus on the negatives that probably could happen. I'm just like, if the linebackers drop deep and I can't hit a dig behind them, I'm just going to take the checkdown. I know it's going to hurt me, because I know I want to make that throw in the second window, but I'm just going to take the checkdown and keep the chains moving. It's all about trying to get my mind right and do the right thing."
Yes, Jameis, please take the checkdown. If there's nothing there on 2nd-and-4, then take that dumpoff to Doug Martin, or hit Brandon Myers planted near the sticks.
This will be one of the greatest challenges for Young Jameis. Joe doesn't want Jameis to play scared, but smart is always preferred.