"Instead Of Leaning On Coaches"
September 24th, 2015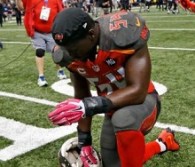 Remember that players-only film and practice session Gerald McCoy and Lavonte David held before last Sunday's game?
David talked a little more about it and its aftermath.
On his weekly show on the Buccaneers Radio Network, David said the defensive meeting, which focused on communication and positioning, will become a regular occurrence.
David asked what was different between Weeks 1 and 2.
"I think from last week to this week, I think as players, first, we didn't prepare ourselves the way that we should have prepared ourselves, instead of leaning on coaches and things like that," David said of the difference between the Titans and Saints games. "We should have took it amongst ourselves to prepare our own self.

"I think I probably was a major part in how we came out, and how we prepared for New Orleans Saints. Coming out flat [against the Titans], came out flat, there's wasn't enough energy."

David explained that he sought real feedback on the players-only session, and based on the reaction, it will continue.
"'After the last meeting we did, I walked around and asked some of the guys, 'That meeting, was it helpful?' Everybody said, 'Yes, without a doubt.' So that's something that we'll continue to lean on," David said.
Joe knows Bucs fans from New Port Richey to Sarasota are wondering what made such a big difference for the Bucs — and what team will show up Sunday in Houston. It was a different Bucs team on the field in Week 2.
David highlighted three changes in the defense, versus what he saw on opening day. "More fire to it." … "Understanding our opponent." … "Having that want-to," David said.