"Impossible To Count On"
September 4th, 2015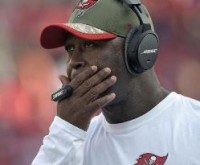 Bucs icon Ronde Barber seemed to have a philosophical clash with Lovie Smith while serving as an analyst on the Bucs-Dolphins game last night.
Barber dared to say turnovers "are impossible to count on" for a defense.
Now Lovie doesn't think like that. Lovie is obsessed with "takeaways," as he calls them. They are critical, says the head coach. Joe already documented how inside the walls of One Buc Palace there are measures in place to have defenders always thinking takeaways.
"It's always about the turnover ratio," Lovie said last night after the Dolphins game with a smile in his voice, via the Buccaneers Radio Network.
Well, Bucs fans know that's inaccurate. In the final year of the New Schiano Order, for example, the Bucs were a whopping plus-10 in turnovers. That was one of the best marks in the NFL, but the team finished 4-12. In 2010, the Bucs were plus-9 in that department.
There's surely no harm in stressing turnovers, but Joe believes it can be overkill. A good percentage of turnovers have a high element of luck involved, or rely on the opposing team.
What Bucs fans have learned from history is what's critical is to have turnovers become points on the board more often than not.