How Bad/Good Are The Saints?
September 21st, 2015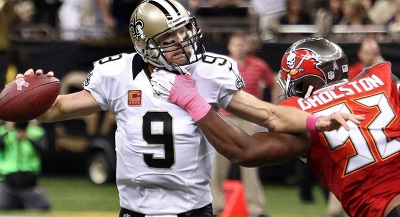 Those trying to figure out what kind of Buccaneers team was on the field yesterday are asking the question this morning as the euphoria of victory wears off?
"How good or bad are the Saints?"
Frankly, Joe doesn't care. A road win in the division is always a big accomplishment, especially against a Hall of Fame quarterback and likely a Hall of Fame head coach. The Saints had win six consecutive home openers with Sean Payton coaching.
But the national media is turning on the Saints, claiming they're garbage and poised to be blown up in the offseason.
Leading the charge is urinal picture-taking, video game-playing, Taylor Swift-listening, pickpocket-thwarting, Bucs-uniform-frowning, Allie-LaForce-smitten, Big-Ten-Network-hating, pedestrian-bumping, olive oil-lapping, popcorn-munching, coffee-slurping, fried-chicken-eating, oatmeal-loving, circle-jerking, beer-chugging, cricket-watching, scone-loathing, college football-naïve, baseball-box-score-reading, NPR-honk, filthy-hotel-staying, fight-instigating, barista-training Peter King of theMMQB.com and NBC Sports fame. So he wrote this morning in his famed Monday Morning Quarterback column.
For the 0-2 Saints. At the start of the fourth quarter Sunday, in the Superdome, the Saints were trailing the moribund Bucs, 23-7. At that point, New Orleans had 19 possessions this season, and two touchdown drives. Running game, mortal. Drew Brees, mortal. The crowd, understandably laconic. After a sixth straight home loss—heresy to think about—to a team that gave up 42 points to Tennessee last week, the Saints have to face the real possibility that the glory days aren't coming back without a complete rebuild. They're 26-26 (including playoffs) since the start of 2012. And though Jameis Winston was suitably honored to be playing a guy he's watched on TV since he was a kid ("That's Drew Brees over there!" he said after the game) he shouldn't genuflect too much. After two games, Winston has a better passer rating than the great Brees. Strange days indeed in New Orleans.
Again, Joe's not about to bash the Saints. They'll win their share of games this year. They may not be a contender any longer, but they'll be competitive all season and win their share of games.
The Bucs, and Bucs fans, should be standing tall this morning.