"He Loses Pass Rushers On A Kind Of Consistent Basis"
September 27th, 2015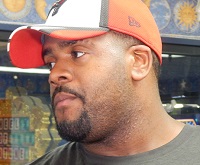 If you listen to the savvy film gurus who follow the Buccaneers and study their offensive line, you hear a steady theme: Donovan Smith is struggling at left tackle.
It's really no surprise for the No. 34 overall pick in 2015. Rookie duty at that position can be brutal.
And to be clear, Joe is not referring to the "F" grade given to Smith by the data nerds at Pro Football Focus.
Former Buccaneers defensive end Steve White (1996-2001) faced and studied many left tackles in his day, and White says Smith is struggling in all phases.
"He blocks well for most of the game, but, man, he loses pass rushers on a kind of consistent basis," White said during his weekly visit on WDAE-AM 620. "He's giving up a lot of pressure right now, and that kind of takes us out of our game."
White said Smith has "a narrow base when he run blocks" and "stops his feet too many times on pass blocking," in addition to explaining how Smith over commits on speed rushes and gets beat inside.
White suggests Smith focus on just improving on one phase of his game ("at least," White laughed) in an effort to get better one step at a time.