Don't Dare Blame Jameis Winston
September 27th, 2015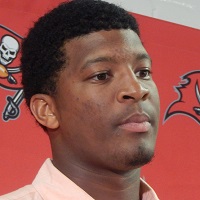 Here come the stat nerds and Jameis Winston haters claiming America's Quarterback had a terrible game today.
Jameis actually played solid football. Go watch the damn film.
You'll see Jameis come out fast, just like he's asked to do. You'll see A+ throws in that first half, as well as A-list drops by Jameis' targets.
Sure, Jameis' touch failed him here and there, and his one interception was a dumb, needless throw. But look at the game as a whole. Look at the pocket poise and the quality of the deep balls.
Lovie Smith had plenty of rough things to say about his entire team after today's loss in Houston, especially the sour quality of his run defense, but even Lovie was quick to say Jameis played good football.
Joe will not succumb to the stat nerds focused on Jameis finishing 17-for-36 for 261 yards and one touchdown and one pick. They'll bellow all night about that poor completion percentage.
Joe's never been a stat slave, which is why Joe (and NFL executives) wasn't impressed by Mike Glennon's 19 touchdowns and nine interceptions in 13 starts as a rookie. Simply stated, Glennon looked like a backup through most of that 2013 season, which is why the Bucs weren't wowed by a trade offer for him.
Jameis, in his last two games, looks like a quality NFL starter at 21 years old. The needle is pointing up for Jameis.
Deny it at your own peril.