Did Lovie Send A Message To Verner And Banks?
September 3rd, 2015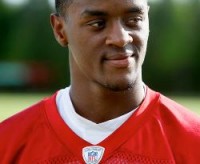 Strange happening on the field tonight in Miami.
Lovie Smith gave starting cornerbacks Alterraun Verner and Johnthan Banks extended playing time, in a meaningless fourth preseason game in which most starters rode the bench.
These could be reasons why:
1) Lovie tried to send a message: that he needs better cornerback play and guys better go out and show it, or risk losing their starting jobs. Between courting free agent cornerback Tim Jennings and playing starters, it feels like something's going on.
2) Lovie is down on Mike Jenkins. Ronde Barber said during the broadcast that Jenkins needs to show coaches he can cover deep. Remember, Barber often seems to echo what he hears from the regime.
3) The Bucs have legitimate depth issues at corner. Leslie Frazier referenced this early in training camp.
4) The Bucs didn't want to showcase corners down on their depth chart, in hopes of hiding a guy a bit and sneaking him on the practice squad on Sunday.