Weather Cancels Bucs Training Camp – Day 1
August 1st, 2015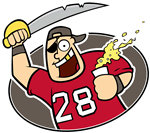 Updated 4:15 p.m. – When will it stop raining? It feels like it's been raining for a month.
Regardless, weather cancelled opening day of Buccaneers training camp practice this afternoon.
The Bucs delayed the 2:30 p.m. start until 5 p.m., but they gave up just after 4 p.m. Joe is totally bummed out for legions of Bucs fans who traveled to Tampa for the festivities.
Last year, lightning zapped the Bucs' first day of training camp.
Day 2 of public practice is scheduled for 4:30 p.m. tomorrow at One Buc Palace.
Stick with Joe 24/7 for everything you need to know about training camp and all things Bucs. Feel free to chat with each other on the brand new JoeBucsFan.com message boards. All who register by Aug. 10 are in the running for a free jersey.