Video: Hope Emerges In The Running Game
August 5th, 2015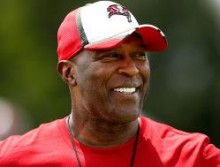 Good things are happening on the Bucs' offensive line — in the running game.
Joe not only gets a close-up view at practice, but Joe has the benefit of reviewing practice video.
Most of that video doesn't make the cut for JoeBucsFan.com for various reasons, but it doesn't mean Joe didn't get to study it three or four times. And while Joe is tense and nervous about the Bucs' pass blocking so far — not Oneill Cousins-Jamon Meredith tense — there is optimism for the running game.
Not only do Charles Sims, Doug Martin and Bobby Rainey look electric, the blocking has had plenty of shining moments.
Enjoy this video below. Logan Mankins is pulling. Evan Smith is moving and engaging like he cares. And rookie Donovan Smith is using his manbeast frame.
It's a healthy dose of hope on this sunny day.