Video: Crowd Can't Shake Jameis Fever
August 7th, 2015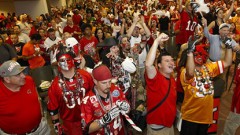 About 25 minutes after Buccaneers practice ended yesterday, after Jameis Winston already signed autographs, a crowd of Bucs fans demanded more.
This scene has become a daily ritual at training camp at One Buc Palace.
So what if these fans already spent hours in the swelter watching practice.
So what if they know Jameis already mingled with fans after practice as many players do. Jameis Fever is too strong.
Joe captured the scene on video below.