Verner Identifies A Difference From 2014
August 27th, 2015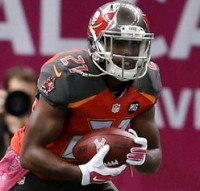 A message from Lovie Smith since Day 1 of this season is translating to the field, says cornerback Alterraun Verner.
Verner hopped on SiriusXM NFL Radio yesterday with co-hosts Rich Gannon and Alex Marvez and explained that Lovie wants a tougher team.
Rich Gannon: What's been the message from Lovie, really going back to your first OTA, what is going to be different about this team in 2015?

Alterraun Verner: I think the physicalness. That's something he's always harping on. He wants us to be physical. I think you saw plays on Monday night, physicality on both sides of the ball, from Doug Martin running the ball, to the offensive line pushing out, to some of the big hits you've seen on defense. I think that's one thing he's been trying to instill since the beginning. I think that's going to be a little bit different, a lot more physical play by us.
Joe's all for it, and certainly against the Bengals the Bucs looked like a nasty bunch — what they weren't against the Vikings.
It's a start.