Training Camp: Final Day Notes & Observations
August 22nd, 2015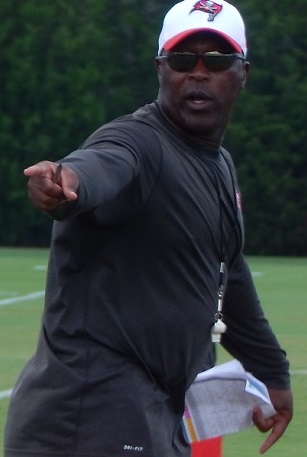 Updated: 6:59 p.m. – It was an underwear football afternoon– no contact or lower pads — for your Tampa Bay Buccaneers, the final day of training camp at One Buc Palace.
Joe patrolled the sidelines to be your eyes and ears. Here are the highlights:
*Kaelin Clay is on point in kick-punt returner work.
*Lovie Smith, new defensive playcaller, is very animated today, running in and out of the defensive huddle with a wad of important-looking white papers in his hands.
*Joe checks local heat index and Weather.com says 105. Feels like it.
*Jameis Winston, America's Quarterback, incomplete to Rannell Hall. Seemed like a miscommunication or a bad route.
* Jameis throws a bulls-eye to Brandon Myers short along the left side.
* VJax gets behind coverage deep over the middle and Jameis puts it on the money as VJax houses the play.
*Over the middle complete to Austin Seferian-Jenkins in stride.
*Nobody open. Play blown dead.
*Robert "Hands" Herron with a one-hand grab with Isiah Frye trailing him on a crossing route.
*Jameis to Louis Murphy on an out route against second-team defense. Precision. Good series from Jameis.
*Odd lack of hustle by defensive end Lawrence Sidbury, Jr., on a run play to the side opposite him.
7-on-7 work starts: Glennon throws behind Vincent Jackson on a crossing pattern but Jackson made a silly spin move in mid-air to catch the pass, land on his feet, and continue his determined route.
*Seferian-Jenkins elevates high with the left hand to snag a Jameis pass. Too high, of his finger tips.
*Sterling Moore picks third-string QB Seth Lobato.
*Major Wright picks off Glennon in center field intended for Rannell Hall. Bad throw.
*Jameis threads a pass to VJax on a slant inside from the right that was very reminiscent of a quarterback-wide receiver combo that played their ball near the Golden Gate Bridge. In real action, V-Jax would have been blasted by the approaching safety.
* Joe has seen more running today than maybe the last week of practices combined.
*Glennon in synch with Seferian Jenkins, 20 yards complete on the right sideline.
*Nice pass breakup of Glennon by Leonard Johnson. Ball was thrown a little behind.
*Very nice early throw by Jameis to Seferian-Jenkins. Bounce-back day for the second-year tight end.
*Joe isn't sure how one can truly evaluate today's practice. At times, the offense looked positively lethal. Unstoppable. Something was wrong. Alas, it was. First, it was underwear football, which lends itself to the offense dominating. Then, for the most part (but not always), the offense was playing against the scout team, guys who will be working food trucks in a few weeks at Curtis Hixon Park.
*Jameis with a nice toss to Russell Shepard over the middle. Lots of runs and little 1-on-1 linemen work off to the side, but what is that worth without hitting? Joe can't get too interested in hand-fighting and leverage.
*Donteea Dye has the ball slapped away by Sterling Moore after a completion. Greg Schian would be losing his mind.
*Evan Smith seen giving quite a bit of coaching to Reid Fragel, the right tackle out of Ohio State who was on the Falcons' roster last year but didn't see regular-season action.
*Basically, the Bucs are installing their offense for Monday night.
*Practice ends with a Danny Lansanah pick of Mike Glennon in the two-minute-drill period.