Titans Watch: 16 More Days
August 28th, 2015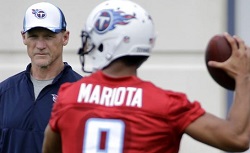 Joe's already called opening day against the Tennessee Titans on Sept. 13 in Tampa a "must-win."
It's not a must-win for the standings. Duh. But it is necessary for the psyche of a fanbase that's hasn't seen a home victory since 2013, and compares Jameis Winston to Marcus Mariota.
 A big surprise of the preseason is that Mariota has not run the football. Nope, he's not panicky in the pocket, and the Titans have rarely rolled out any zone-read and other plays suited to Mariota's wheels.
But that might be changing tonight in the Titans-Chiefs preseason game, writes David Climer of USA Today.
While they've kept it pretty vanilla for the most part, the intermittent zone-read play has raised eyebrows.

In two preseason games, Mariota has run with the ball a grand total of one time for one yard. Against St. Louis, he pulled the ball away from running back Bishop Sankey at the last instant and bolted to his right before running out of bounds with linebacker Alec Ogletree in hot pursuit.

While the zone-read play is a staple of many college offenses including Oregon's, it is comparatively rare in the NFL. Seattle, Carolina, San Francisco and Philadelphia are the leading practitioners. Seahawks quarterback Russell Wilson averaged 7.4 carries per game last season, many of them on the zone-read play.
Joe is extremely confident the Titans will play some zone-read early against the Bucs, or flash enough of it tonight to get Lovie Smith overthinking it — and overcoaching it — as he prepares to call the defensive plays against Tennessee.
Mariota really doesn't scare Joe. It's exotic-blitz-happy Titans defensive coordinator Dick LeBeau and the Bucs' offensive line that has Joe drinking heavily.