The Moss Files
August 3rd, 2015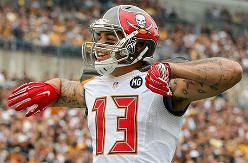 Everyone knows Mike Evans had a couple of training sessions this offseason with eventual Hall of Fame receiver Randy Moss.
Evans already explained to Joe that Moss is one of the "tightest dudes" he's ever met, but what did they really work on?
Joe dove into that with Evans after practice today at One Buc Palace.
And there's not a lot of meat there, Evans explained.
Simply stated, Evans said he and Moss drilled the basics to perfection. That's not a huge surprise, considering that legendary receivers like Moss or Jerry Rice, were just better at the fundamentals than everyone else, in addition to their mad talent.
However, Evans said the nuanced work came when Moss was teaching the art of the deep route and "getting leverage on safeties and corners and stuff like that." It's the stuff that can make you more of a threat, Evans said.
Joe can already here Bucs fans drooling.