"The Challenging Part Is To Set Aside Your Ego"
August 1st, 2015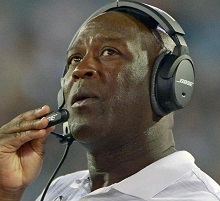 So what's going to fix the Buccaneers defense?
Yes, it was broken last year, even after it stopped getting humiliated like it did against the Falcons and Ravens early in 2014.
A guy who spent six years in the Old School Tampa-2 and owns a Buccaneers Super Bowl ring, former linebacker Ryan Nece, has a good idea what will transform the Tampa Bay defense.
Nece hopped on the Ronnie & TKras show on WDAE-620 AM yesterday and explained that the much talked about learning curve in Lovie Smith's defense is mostly mental.
"It's not as much the scheme. The scheme is a relatively easy scheme. The challenging part is to set aside your ego and confidence and your willingness to try to be the playmaker," Nece said. "Because in a system like this. Everyone is accountable for their own gaps. It is a family. It is a unit. And if you set aside that, and you come into this system thinking, 'Hey, I'm the guy. I need to make all the plays. Or I'm going to try to do something outside of this system because I'm trying to be instinctual and trying to be a playmaker.' The entire system breaks down. So that's where the hardest part is, not necessarily so much learning the scheme, but understanding the underlying philosophy behind the scheme, which is an entire unit, a family, working together as one."
Joe gets that harnessing one's instincts can be brutally difficult. But we're talking about basic football here, not passing on warm chocolate chip cookies because you've already had cake. By now, the Bucs should be well schooled in Lovie's defense and playing fast and smart.
Ask Lovie what he looks for most in assistant coaches, and Lovie will say a guy has to be a "stern teacher" first and foremost. Joe's going to assume Lovie's gang of teachers graduated everyone from elementary school and will produce a real NFL defense on opening day.