The Blossoming Of Jameis
August 26th, 2015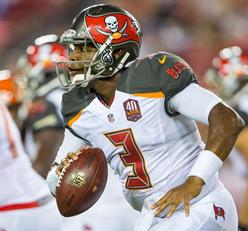 Joe understands the confusion from Bucs fans who have, for generations now, been subjected to quarterback standards from the likes of Jack Thompson, Trent Dilfer, Son of Bob and Josh McClown.
No, Bucs fans, those standards are not what decent quarterback play looks like.
Joe sure hopes the first quarter of Monday's night's game against the Bungles is a harbinger of things to come. Yes, folks, what America's Quarterback, Jameis Winston, did Monday night, well, that's what a quarterback looks like.
Former NFL safety Rodney Harrison and the creator, curator and overall guru of Pro Football Talk, the great Mike Florio, offer their observations of Jameis in this NBC Sports video.