"The Best Thing About Our Defensive Line"
August 26th, 2015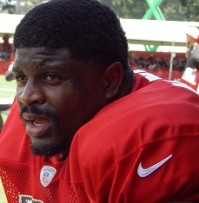 So what's special about this Buccaneers defensive line?
Defensive tackle Clinton McDonald volunteered his take to Joe yesterday.
"Any guy we got can play any position. That's the best thing about our defensive line," McDonald said. "We're very versatile. It provides a lot of matchups when we get on the field."
Returning after a five-sack season, McDonald might be the least versatile of the group. Lovie Smith already referenced that newcomer Tony McDaniel, a starter in Seattle last year, can play outside. And Henry Melton, the guy Lovie claimed up and down was just a defensive tackle this year, was the starter at left defensive end on Monday night against the Bengals. Gerald McCoy was even seen lining up in spots unusual for him Monday.
Perhaps the Bucs believe they finally have the personnel to do more of the rotating and matchups the Seahawks to with their D-line? When Lovie Smith took the job with the Bucs, he said he admired the formula of Seattle.
McDaniel also talked to Joe about the very physical nature of this year's training camp. McDonald agreed that it was more intense than last year at times. He said that was, in part, due to coaches' demands.
As for his recent anger on the practice field, seemingly directed at Evan Smith and or Ali Marpet, McDonald said, "Like brothers, it gets to the point you're tired of seeing each other sometimes. That physicality does nothing but help the team. Because it shows we're tough enough to go out there and practice hard. Not every team practices that way."
Joe asked whether the rookie Marpet, by being so strong and consistently finishing blocks in practice, fueled the heated trench warfare of this summer. McDonald said there is some impact from the rookie.
"As a young guy, and a physical guy, he's going to do that," McDonald said. "Logan Mankins and Evan Smith, they have enough resumé feel to teach him the fine points of his position, and they are. So he's set up to have success between his nature and ability, and the brothers around him."