Shadow Boxing
August 12th, 2015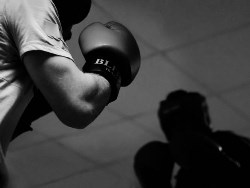 Sometimes, as many coaches will say often, the little things add up to big things.
And Joe has noticed that on more than one occasion, that applies specifically to defensive backs.
During underwear football season, Bucs corners were swinging at air on pass plays. More like shadow boxing. Of course, there is no hitting in underwear football. When the Bucs corners approached a ballcarrier, whether it was a running back or a wide receiver racing downfield, they swung, sort of like punching ghosts.
Joe recognized at the time the defensive backs were mimicking punching the football out. Apparently, Lovie wants defensive backs used to punching the ball out on all defensive plays.
This has continued into training camp.
Yesterday at practice, Joe sat along the north end line of the end zone.while on the air with his good friend, "The Big Dog," Steve Duemig of WDAE-AM 620. There was a pass play in front of Joe where three defensive backs were seen swarming a wide receiver like bees, shadow boxing, all.
Joe likes the attention to detail and hopes it results in coveted turnovers. More importantly, Joe hopes Lovie's insistence of punching the ball out does not come at the expense of the most fundamental of all defensive plays: wrapping up.