Mike Evans Wasn't High On Jameis
August 23rd, 2015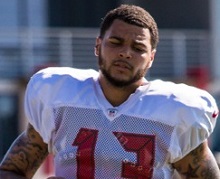 Based on new information, Joe's guessing Mike Evans wasn't one of the Buccaneers texting Jason Licht to draft Jameis Winston, America's Quarterback, during the 2014 season.
Speaking on SiriusXM NFL Radio last week, Evans was asked about the Bucs' new rookie savior.
Evans opening comment intrigued co-host Zig Fracassi.
"He surprised me a lot," Evans said of Jameis. "He's a really good player. I think he'll be a good player in this league. I think he's NFL-ready. He's a very resilient guy. He's a leader, and he's a fun dude to be around."

Surprised you how? Fracassi replied

"I wasn't a big fan of Florida State," Evans said. "I was an SEC-bias guy. … Jameis showed me some things when he came to One Buc."
Joe's got a similar vibe from various Bucs, that Jameis won them over when he got here and they were skeptical when he was drafted.
That's old news, though. Jameis is now the clear leader of the offense.