Lovie Spying On Players
August 24th, 2015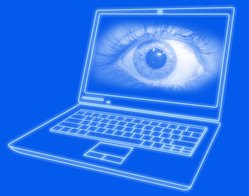 Be careful what you do at home with those Surface tablets the team gave you, Bucs players. You better be watching game film and not those Jenna Jameson flicks.
Why? Because Bucs coach Lovie Smith is watching!
You better make sure you are studying practice tape and not uploading photos to your Instagram account. Because the Bucs are monitoring your every keystroke.
Lovie let the cat out of the bag last week when he appeared on the SiriusXM NFL Radio "Training Camp Tour," when co-hosts Booger McFarland and Zig Fracassi spent three hours breaking down the Bucs.
During Lovie's visit, he spoke often of wanting players who are "football junkies." Fracassi wasn't totally sure what Lovie meant by that. When Lovie explained, he offered that he and the Bucs monitor every move players make while on the team-supplied Surface tablets.
Zig Fracassi: You have referenced a few times during the interview "football junkie." For our listeners out there, what constitutes a football junkie?

Lovie Smith: I'm talking about a guy who is about football pretty much all day. It is one thing to be here [at One Buc Palace] when you have set times when you are supposed to do things. But on your off day, what are you doing? Are you into football then? When you leave here, are you studying at night?

We can tell, really, with modern technology, who studies when, when they leave going away from here, with the new Surfaces that we have. And that is what I am talking about. Always trying to acquire more information to make them a better football player. And we have quite a few of them around here.
At least Lovie is open about this. And let's be honest, this likely was going on when Raheem Morris dished out iPads back in the day. Just like computers, tablets leave a trail of bread crumbs as to where and what players have surfed.
This is why Joe is still shocked that a control freak like former Bucs commander Greg Schiano initially did away with iPads for players. You would think if anyone, it would be Schiano who wanted surveillance and data on his players away from One Buc Palace.
Just for s(p)its and giggles, Joe would love to see the Internet history from Da'Quan Bowers' Surface. Guessing there is are at least some guitar sites and Gospel music pages visited.
Could you imagine what Aqib Talib would have watched using a Surface? Just a wild hunch, but defense attorneys would be high on the list. Perhaps YouTube videos of "Cops" as well?