Lovie: Evans Out For Preseason With Bad Hammy
August 25th, 2015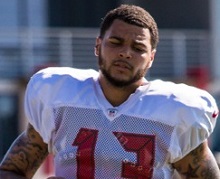 When Mike Evans first came to the Buccaneers, he tweaked a hamstring in spring practices.
Last season, he blew a groin in Pittsburgh but only missed a game and a half.
Against the Bengals last night, Evans pulled a hamstring and left the game. This afternoon, Lovie Smith announced that Evans is done for the preseason with that hammy injury.
Joe could speculate up and down about Evans' injury. Nobody knows. We'll see if he practices. In 15 days, Evans will — or will not — appear on the first injury report of the regular season. The Bucs face the Titans in the season opener in 19 days.
A potential loss of Evans, even for one game, could be toxic. It would have a ripple effect through the offense. Vincent Jackson would see a diet of double teams, and Louis Murphy and likely Russell Shepard would have to rise up, much like they did in the thrilling win at Pittsburgh last year.
Joe's hoping for the best. That's all we got right now.