Leslie Frazier Says McCoy Is On Verge Of NFL MVP
August 12th, 2015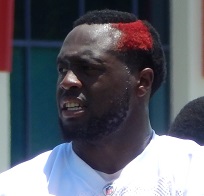 How good is Gerald McCoy?
However you choose to answer that — and it is debatable — it doesn't take away from the extreme expectations on McCoy's back.
Speaking to Steve Duemig yesterday, on WDAE-AM 620, Bucs defensive coordinator Leslie Frazier referred to stars Lavonte David and McCoy, who he said was "on the verge of becoming an NFL MVP."
That's some big talk. Heck, McCoy has never had 10 sacks and hasn't played on a winner since 2010, the dream season from Raheem Morris.
But Joe can't quibble with Frazier. McCoy is in his prime and has the tools to crank out 15 sacks, which would put him in rare company as a 4-3 defensive tackle.
Ndamukong Suh has never exceeded 10 sacks in a season. Warren Sapp had 12 1/2 sacks in 1999 and 16 1/2 in 2000, when he was an MVP. Those were Sapp's two best years. Keith Millard, McCoy's former position coach, ripped off 58 sacks in 93 games in his short career as a defensive tackle. That's a hell of a clip.
McCoy can do it and bring extreme pride to the Tampa Bay faithful. But he's going to need some help. With all the improvement on the Bucs' defensive line this year, it sure feels like McCoy is primed to make the leap to historic greatness.