"Kid" Is Appreciative
August 29th, 2015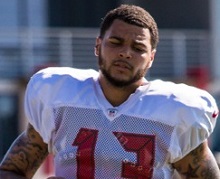 Mike Evans won't play tonight, but one of his mentors will.
Joe is talking about Josh McCown, the former Bucs starting quarterback who was 1-10 here and helped the Bucs seal the Chase For Jameis.
Yes, Joe is sickened by McCown, who shamed the Tampa Bay uniform. But Joe was eager to hear what various Bucs had to say about their former captain.
Joe asked Mike Evans about McCown and his memories of his McCown's time in Tampa.
"Great dude. He helped me a lot throughout my progression," Evans said. "You know, he made sure I was running the right stuff. He'll tell me, 'Kid, run a go.' He always called me 'kid' because,  you know, he's much older than me. But he made sure I was doing my part and I was up to speed on everything. So he's a great guy."

When McCown was here, he said multiple times that Evans' career likely would be marked by how hard he worked between his rookie season and Year 2. Joe asked Evans about that, too.

"We talked during the offseason, but he didn't talk about that, but while he was here he did," Evans said. "I always talk about other guys like Calvin [Johnson] and he would say, 'You can be like that.' He always had confidence in me and I appreciate him for that."
Joe headed over to Austin Seferian-Jenkins, who dropped a lot of love on the former Bucs QB.
"He's a true professional, and I think he left everyone in this locker room with really how a professional should attack the game," Seferian Jenkins said of McCown. "Obviously, we didn't get the results we all wanted last year. But I think everyone in this locker will accept the fact that Josh really attacked the game like a true professional and he showed us how to be a professional. I'm truly appreciative for him being there my rookie year to see how it's supposed to be done with him in what, Year 12, and me in Year 1."
Mike Glennon shared that McCown would have "a little fire lit in him" to beat the Bucs tonight, "like any real competitor would."
So there you have it. A little equal time for McCown. After hearing all this, it's almost surprising Lovie Smith cut McCown, when he could have had him around his prized rookie, Jameis Winston. That tells Joe that Lovie didn't think as much of McCown as he says publicly.