Kenny Bell Shed Combine Bloat
August 9th, 2015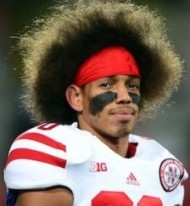 It sure seems Bucs' fifth-round pick, wide receiver Kenny Bell, got bad advice this winter heading into the NFL Scouting Combine.
The narrow-framed, 6-foot-1 Bell played at Nebraska at 180 pounds. At the combine, Bell weighed in at 197 pounds and, yesterday, Bell told Joe he was up to 201 pounds at one point.
Bell bulked up pre-drafted based on the advice he got from various sources. He told Joe that the combine is "Olympics" and you want to show off your best physical self and look the NFL part.
But that just wasn't Bell. He's got an old school body and is now down to 183, he told Joe.
Bucs general manager Jason Licht said on WDAE-AM 620 yesterday that Bell, like many small receivers, wanted to look bigger for NFL teams. Licht said that hurt Bell.
"That actually wasn't him," Licht said.
Licht described Bell now as "just really fluid, fast" and lighter.
"It's paid off. Usually, a smaller leaner guy, most of them play a finesse game but Kenny's got toughness, and he's strong for his size. Pound for pound he's very strong," Licht said.
"The sky's the limit for [Bell]. I got more calls about him after the draft about him from other GMs and personnel directors than any other player saying, 'We couldn't believe he was still there in the fifth round."'
Joe's not going overboard for Bell, but it's hard not to focus on him considering the Bucs' No. 3 receiver, Louis Murphy, is walking around in street clothes with a mysterious freak ankle injury.
The Bucs might need Bell to be one special rookie fifth-rounder.