Jameis Is No Fan Of "Low-Intensity" Football
August 16th, 2015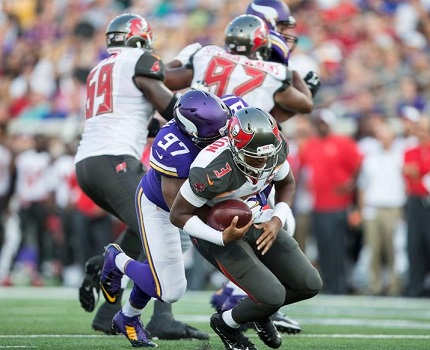 Joe swears, Jameis Winston, America's Quarterback, is the most naturally confident young athlete he's ever seen.
It's almost hard to explain. Take what Jameis told Joe after the Vikings-Bucs game.
To open his postgame news conference, Jameis was asked (not by Joe) about how he and the Bucs started slowly.
And Jameis offered this answer: "It's good to come out here and play football and play against another team. Me and the guys went out there and we fought hard. It's preseason. So it's kind of low intensity. But it was good to get one under your belt."
What? Did Jameis just say it was "low intensity?" The Vikings were out there to slaughter him. He even got drilled in the head, which the zebras didn't call. Second, the game was played before a packed house with temperatures at 88 degrees at kickoff. This was a lubed-up-with-alcohol crowd coming off hours of tailgating. "Low intensity?" It was Jameis' first game — on national TV!
Joe couldn't let that pass. So Joe asked Jameis what exactly "low intensity" is supposed to mean.
"Well you know, this is the first time, the fans, you know, they don't really get into the game that much," Jameis said. "But, it's just preseason. One thing I'm looking forward to now is the first game at Raymond James. You know, it's just a new feeling for me. I love it. I enjoy it. And it's just a new experience."
Take that Vikings fans. Jameis thinks you're a little soft compared to what he's used to.
Earlier in his news conference, Jameis talked about how he liked when the Bucs ramped up the intensity and tempo. That's his rhythm. "An energy burst" is a help," he said, "get back to playing football."