Jameis Enjoyed Getting Sacked, Downplayed Speed
August 18th, 2015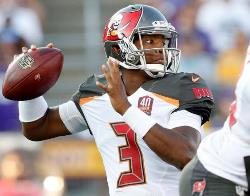 The analysts said Jameis Winston came out of college extraordinarily NFL-ready. And the way Jameis talked to Joe and other media this evening, that was never in doubt during his first preseason game.
Jameis was asked about his introduction to playing a real NFL opponent in Minnesota, and Jameis brushed off any thought of being wide-eyed rookie.
"The main thing was being able to feel a true rush," Jameis said. "You know, again, the defensive ends actually being able to sack you. Other than these guys, [Bucs defensive ends] saying they got a sack [in practice] when it probably wasn't really a sack. But you know, you got to feel the real rush. And that was important."
Do you like that Jameis? Is it exhilarating? he was asked.
"Absolutely. We're playing real football," Jameis said. "Any chance I get to play real football I love it. I enjoy it.".
So there you have it. Jameis likes to get hit and was not phased by the bright lights and a fierce pass rush.
Jameis also was asked if the NFL speed "surprised" him. His answer was "not really. … I had high expectations for our offense."