"I Always Got Something To Say"
August 24th, 2015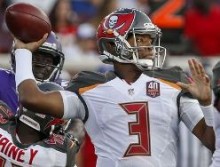 Jameis Winston, America's Quarterback, believes rookies should be seen and heard, if that's who they are.
Jameis let loose last week and explained that he knows his limits in the Bucs' locker room — for now.
"You just got to be yourself. I mean, it doesn't matter if you're a rookie or you're a 10-year vet," Jameis told SiriusXM NFL Radio. "You're going to be yourself, you know, you always got to find your role on this team.

"Like I'm not going to talk out of line. If Gerald's talking, I'm not going to overtalk Gerald or do something like that. If Vincent's talking, I'm not going to overtalk him. But if I'm walking up and down that sideline, and say we came off a good drive, and I'm like, 'Guys let's keep it going." Or even if we have a bad drive, 'Guys, let's keep it going. Let's bring up the intensity.' I always got something to say.

"I don't have to be a rah-rah guy or be the main guy that brings guys in the huddle and go over a speech and stuff. That's not my role for this team yet. But I will be the leader that we need internally. So people have someone in their ear to be motivated and confident."
That was powerful stuff. Joe zeroed in on when Jameis said, "That's not my role for this team yet."
As soon as Jameis wins a couple of games, or plays well in the regular season, Joe suspects the invisible switch will flick and Jameis will take over as the voice and pulse of the Bucs.
First, it's why he was drafted. Second, it's all the guy knows. Lovie Smith keeps saying he wants Jameis to be Jameis. Well, Jameis is the guy eager to put the team on his back in all ways.
Joe hopes it happens. The other Bucs team leaders have a sour track record.