"How I Kind Of Push My Leadership Upon Other Guys"
August 31st, 2015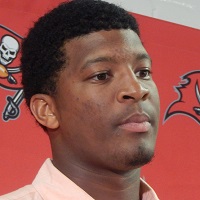 Publicly, Jameis Winston, "America's Quarterback," has played the role of one-day-at-a-time, "I-just-want-to-be-better-every-day" rookie since arriving at One Buc Palace.
But Jameis assured Joe today that he is still the big-talking guy who jawed about winning this season's Super Bowl and entering the class of Tom Brady and Peyton Manning.
The world heard Jameis share that level of confidence and bravado via 1,000 or so media at the NFL Scouting Combine in February. Yes, Jameis said back then that he expected to be winning the Super Bowl this year. The context surrounded Jameis not wanting to be in a discussion of him versus Marcus Mariota. Jameis' had a different, much loftier narrative for himself,
Today, Joe asked Jameis if, six months later, he was the same confident guy, despite talking like a humble Buccaneers rookie lately.
"That's the dreams. My dreams are to the ceiling. I believe my dreams have no ceiling," Jameis said. "They're just me as a person, and that's how I kinda push my leadership upon other guys. So if you're trying to get them to dream, dream big. You know, because we want a lot. But to get that lot, we gotta go get crumbs. You know what I'm saying. We gotta go little by little by little and hopefully get to that point. So yeah, I'm still thinking that. That's just my personality. That's just how I carry myself."
Jameis sure has the right mentality to lead the Bucs out of the NFL dumpster.
Joe just hopes he can stay upright and healthy long enough to make it happen.