Hope
August 4th, 2015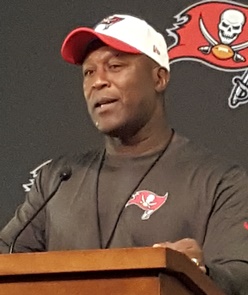 Joe is well aware Bucs fans are nauseous in the pits their stomachs about the woeful status of their franchise.
Losers of 70 of the past 100 games, the Bucs are at the bottom of the NFL with the Jags in total losses since the Bucs jettisoned Chucky (and that factors in Raheem Morris' stunning 10-6 season in 2010).
But stat geek Bill Barnwell, on the overhyped, overrated Grantland.com, makes a long, compelling case that the Bucs are this year's Houston Texans. Two years ago the Texans were the Bucs, finishing 2-14, as well. In 2014(without a quarterback), Bill O'Brien turned in one of the best coaching jobs, nearly getting the Titans to the playoffs with a 9-7 mark.
Of course, being a numbers nerd, Barnwell throws out a bunch of statistical gibberish, but he does focus on one area where he claims the Bucs can quickly turn things around. He specifically cited all the close games the Bucs lost, much like the Texans.
Teams that miserable in one-score games almost always improve. The 19 previous teams to lose eight or more went 39-155 (.201) in games decided by seven points or fewer during their grotesque seasons. The following year, they were essentially league-average at 70-72 (.493). Overall, they improved by an average of 3.5 wins. You can slice up the league's history into all kinds of groups, and you can occasionally find exceptions on teams with truly transcendent quarterbacks, but for the vast, vast majority of the league, there's just no consistency to winning (or losing) close football games.

It's also a good sign that the Bucs were able to take leads for meaningful chunks of game time, even if they didn't necessarily hold on to them. That's something else they had in common with the 2013 Texans, who blew a league-high six halftime leads. The 2014 Texans didn't blow a single game they led at halftime.

The Bucs lost five games they led at halftime last season. That tied them for the league lead with the Rams and Titans. Twenty-two other teams since 1990 have blown five or more halftime leads in a season; the following year, they blew an average of two such leads and improved their overall win-loss record by an average of 3.4 games. The year-to-year correlation of a team's blown halftime leads over that time frame is 0.04, meaning that what happened the first year has absolutely no predictive value; it's better to just use the league average, which is 1.6 blown halftime leads.
While all of this sounds swell, Joe honestly cannot envision the Bucs winning more than six games. There are still way too many holes and questions on this team. Too many for Joe to swallow, especially on the defense. Can Alterraun Verner bounce back, for example? He ought to be paying Josh McClown, Ghost Johnson and Anthony Collins cash under the table because those guys were so miserable, folks didn't notice that Verner wasn't playing all that well.
Then there is the perpetual, gnawing question: Where the hell will the edge pass rush come from?
Throw in a rookie quarterback behind a shaky offensive line, and Joe is having trouble envisioning a Bucs playoff run.
Hope it happens, but just cannot see it this season.