First-Team Defense Failed; Gerald McCoy Is Not Concerned
August 16th, 2015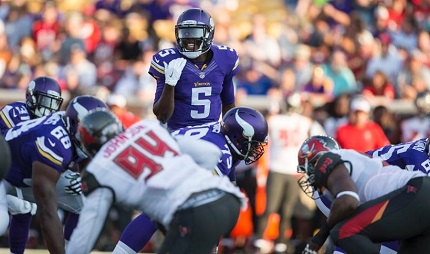 There exists a massive, unhealthy level of tension among Bucs fans. And it won't fade until Tampa Bay has a winning record again.
So Joe gets why Teddy Bridgewater carving up the Bucs' first-team defense (7-for-8 for 86 yards) last night has fans freaked out. Joe talked to Gerald McCoy about it after the game.
McCoy was cool as a cucumber and is thoroughly calm.
"You know, it's the first preseason game," McCoy said. "You get the dust off, the rust off. We could have been better. Obviously, they scored on us. The goal line stand, the fullback dive, I took on the double-team. They got movement on me and they scored. So me grading myself, I could have been way better. But overall, it's the first preseason game. All we can do is come out this week, have a great week of practice and just build off this start. Obviously, we showed we haven't peaked yet. So you don't look too much into this, you just know everybody individually has to be better."
McCoy went on to say the steady rotations early on the defensive line is part of the evaluation process. Coaches are "trying to see who mixes well."
On Jameis Winston, McCoy said Jameis played like a rookie and that's ok. "He has that winning gene. Once it comes out, it's going to be scary," McCoy said of Jameis. "Everybody did something uncharacteristic of themselves," McCoy said of the rough night. But he called that common in "Week 1 of preseason football."
So there you have it, Bucs fans. Relax. Breath easy. Don't lose sleep over an ineffective pass rush and the Vikings rolling up points in August.