Dirk Koetter: Goal For Jameis Was 50% No Huddle
August 22nd, 2015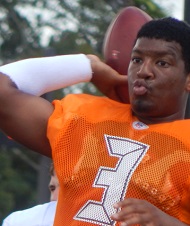 Preseason games are about teams executing scripts and reaching their internal goals, not winning.
Dirk Koetter opened up about the plan for the Bucs' preseason opener and how things changed.
Speaking Thursday on SiriuxXM NFL Radio, Koetter said he wanted Jameis Winston, America's Quarterback, feeling the high-octane rhythm at the NFL level in his first preseason game.
"We wanted to work some no-huddle with Jameis. We wanted to work about 50 percent of the time he was in the game in no-huddle." Koetter said last week's plan in Minnesota. "Doug [Martin] got in a good rhythm and we were running the ball that first drive. And you know, your O-line loves to come off the ball and run block. We just stayed with it. That wasn't necessarily the thought going in; it's just the way it worked out.

"By no means moving forward, we have no fear to put Jameis out there and turn him loose. I mean that's Jameis' strength. Jameis' strength is put the ball in his hand and throwin' it down the field."
Joe wrote earlier today (see home page) about Koetter's take on Jameis' football intelligence and the massive volume of information being thrown at him regularly.
It's interesting that the Bucs broke script out of the gate in the preseason opener, per Koetter, when they saw the O-line was pounding the rock in the opening series. Look at the film and you'll see never-again-please-at-center Garrett Gilkey blowing open holes as a starting right guard. The Bucs broke up the running party by series two, when Logan Mankins and Doug Martin hung it up for the night.