Day 8 Training Camp Notes & Observations
August 9th, 2015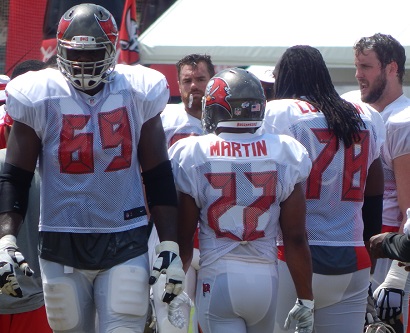 Your Bucs were back at it for their fourth consecutive day of training camp practice at One Buc Palace. The sun was broiling and Joe's got a pile of his famous notes and observations.
Enjoy!
* So far, classic rock is the musical theme of the day. Thinking this is Rare Earth.
Your first team offensive line today (from left to right): Demar Dotson, Ali Marpet, Garrett Gilkey, Logan Mankins, Donovan Smith
*After lots of drills and special teams work, the Bucs open for the second day in a row working on power runs. Nobody is split wide. Lovie wants the Bucs to be able to run when everyone knows what's coming.
*Martin up the gut. Stuffed.
*Rainey with a nice cutback for a TD with the second unit.
*Rookie linebacker hits Mike James in backfield.
*Ali Marpet appears to have a brief jawing session with Danny Lansanah on the field. This wasn't a happy talk.
* Bama fans rise up: Lynyrd Skynrd's Sweet Home Alabama" fills the air of One Buc Palace practice fields.
* Fans enjoy Muscle Hamster running up middle for TD.
* Rainey with a nice cutback run with the second team for a TD.
*Kwon Alexander drills Mike James in the backfield.
* ZZ Top.
* Gerald McCoy gets a day off today but can't stop working. See Joe's full post below.
* Evan (Diedrich) Smith also gets an off day and sports a floppy hat and does a lot of watching with arms folded.
*Fumble! Mike James on a clean hand off. Not the best training camp for James, one of Joe's personal favorites.
*Led Zeppelin "Rock and Roll."
* D.J. Swearinger would have beheaded Mike Glennon on a blitz save for orange jersey.
*D.J. Swearinger buries Mike James with a bonecrushing hit. It was a hit you could hear from Bradenton. Wow! Hit of training camp thus far. Keep in mind defenders are not supposed to tackle players to the ground.
* America's Quarterback, Jameis Winston, mishandles a snap from your starting center today, Garrett Gilkey. That happened more than once.
* Jameis bomb down right sideline for Mike Evans as crowd roars its approval.
* Jameis find Robert Herron in a seam deep (20 yards) between two defenders. A low strike. Excellent blitz pickup by Charles Sims on that play.
*Love for the bottom of the roster: Guard Matthew Masifilo ( a defensive player last year) with a crushing block on linebacker Quinton Alston
* Perhaps the lamest Van Halen song, "Jump." And Joe is a hardcore Van Halen nut.
*7-on-7 work starts: Jameis with a quick strike to tight end Cameron Brate.
*A leaping A+ grab by Austin Seferian-Jenkins in traffic. The guy has the skills.
*Rough day for Mike Glennon. Swearinger and Alexander each dropped picks Glennon throw right at them.
*It's a double tight end set with Tim Wright and Seferian-Jenkins.
*Drop! Wright on quick route to left side. Looked like Jameis might have thrown it too soon.
*Drop! In the end zone by Tavarres King, from Glennon.
*Drop! Tight end Evan Rodriguez drops an easy one from Jameis.
*Drop! Doug Martin loses the handle on contact from linebacker Khaseem Greene.
*Fastball! Jameis to ASJ.
*Scary moment. Mike Evans tweaks his knee after appearing to trip on the pretend line of scrimmage mat that's often laid down in 7-on-7 work. It's a marker since there are no lineman. Evans was two steps into his route and tripped up. He was on the ground with trainers and, after practice — walked off the field like he had a rough day. Lovie Smith says the team has no significant injuries.
*Sweet hands by WR Adam Humphries in third-team duty.
*Fake field goal! Michael Koenen throws to Luke Stocker.
*11-on-11 resumes and ASJ gives a great effort on an incompletion in the end zone.
*Defensive end George Johnson is out for the second consecutive day.
*Dirk Koetter gives Glennon "five" after a tight session with his unit. A comeback of sorts for Glennon in this practice.
*Jameis overthrows King in the end zone.
*Bucs line up with five receivers. Touchdown Jameis to Vincent Jackson. Wide open in back of end zone.
* The "Benn'd Around" lives! Jameis hands off to Donteea Dye (No. 17) who puts ball on the ground.
* Jameis wide right to ASJ who barely got fingertip on ball.
* "Cat Scratch Fever" blares as Jameis fires to Rannell Hall for 20 yards.
* Beastie Boys!
* Sharp Jameis back this morning.
* Jameis is human! Picked in red zone. Alterraun Verner. It was a terribly wobbly throw that shouldn't have been made. And another fumbled snap. Too many bobbled snaps today. not sure who the culprit is but fans might point at Gilkey, just because.
* More Led Zeppelin. "Black Dog."
*Undrafted rookie Ryan Delair, defensive end, looks like a guy who could land on a practice squad. And Joe means that as a good thing. He's having his way with right tackle Patrick Omameh.
* "Won't Get Fooled Again" Thank you whoever selected this Who classic. (Joe is tapping his toe better than Mike Evans catching a pass along the sidelines.
* Robert Herron takes a misdirectio and his speed gets the left edge for a touchdown. Herron does a backflip in the end zone to the crowd's delight.
* Wonderful breeze at One Buc Palace keeping things comfortable for fans on this sunny Sunday.
* AC/DC blaring. Anyone see Jason Licht headbanging?
* VJax wide open in right corner for Jameis as Lynyrd Skynrd blares. Mike Jenkins was trailing the play.
*Linebacker Larry Dean had a sure pick of Jameis, another bad red zone throw by Jameis.
* "Jumping Jack Flash" and "Stranglehold" — a good song for the defense.
* Jameis marching Bucs downfield in two-minute drill with "Immigrant Song" pounding the midday air. Jameis was six-for-six in this two-minute drill and spreading the ball around.
* Robert Herron getting a lot of work with ones, and performing well today.
* Another drop by Wright. Rough day.
*Logan Mankins leaves the practice field holding his left rib area. Joe is told it's heat related. Whew!