Day 2 — Training Camp Notes & Observations
August 2nd, 2015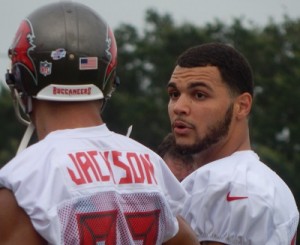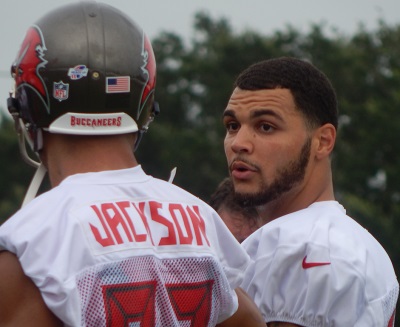 It's Joe's world famous practice notes and observations, as Joe takes you right on the field. Enjoy!
*With pads not on yet and hitting not allowed, one could say the big story of training camp today was the crowd. That's overflow crowd, to be exact. Joe's never seen anything like it. And considering the cheering for nothing completions in drills, Joe's not stretching to say the crowd was there to see America's Quarterback, Jameis Winston.
*Yes, there is music in the air today. Hip hop. Joe, being the white-bread, cornfield-born type, doesn't recognize any of the artists save for Eminem.
* Jorvorskie Lane comes back to catch a Jameis pass in the right flat and goes down quickly due to wet grass.
* Fan favorite Luke Stocker slips while going out for a Jameis pass and despite falling down, nearly came up with the catch, a diving drop.
* Jameis connects on a crossing pattern from the left by Kenny Bell.
* Godzilla Evans goes high over the middle to haul in a Jameis throw.
* Kenny Bell is really playing sharp today. If he keeps this up he's going to give Louis Murphy a real run at the No. 3 wide receiver position.
* Former Central Florida wide receiver Rannell Hall grabs a pass from Mike Glennon over the middle to the house. Hall made several plays today and was called out by offensive coordinator Dirk Koetter after practice. Twice, Koetter raved about Hall making all kinds of plays and shining.
* While there is a break in practice, Jameis is busy working on his footwork on dropbacks.
* You can hide from Lavonte David but you cannot run away. Charles Sims takes a pass from Jameis in traffic over the middle and tries to wiggle his way free. But no! Lavonte David corrals him from behind.
*  Tavarres King, a key figure in winning the Chase from Jameis, comes in from the right sideline, sells himself out and catches a pass from Jameis in the right flat.
*Your punt returners today were rookie sixth-round pick Kaelin Clay, no surprise there, as he is the frontrunner. Rookie Adam Humphries and rookie Donteea Dye. Not one punt was dropped, and considering the stiff wind, those guys did a hell of a job
*Crowd erupts as Jamies hits Donteea Dye for a five-yard pass with Leonard Johnson covering.
*Overthrow by Jameis.
*Bad drop by Russell Shepard, from Jameis. Very few drops today at all.
*Drop! Mike Evans on a 30-yard throw from Jameis. Alterraun Verner in coverage.
*Short pass to V-Jax and crowd roars. It's getting a little silly, but Joe loves seeing Bucs fans excited for a change!
*Nice body adjustment on a receptions by Robert Herron.
*Bradley McDougald and Major Wright appear to be your first-team safeties.
*Nice play by cornerback Brandon Dixon in coverage.
*Much more Jameis-Koetter interplay today than last night.
*Tim Wright revives an old connection — with Mike Glennon — over the middle.
*Fifteen yards up the seam, Jameis Winston hits Brandon Myers in double coverage. Great offensive play all around.
*Mike Jenkins with a cat-like bat down on a pass to King. V-Jax appeared visibly frustrated that Jameis read the play to King. Extremely rare to see any frustration from V-Jax in a practice.
*One-hand grab by Humphries as Glennon scrambles left. Humphries is just one of these guys that catches everything.
*FLAG! Demar Dotson, false start.
*Jameis hits Austin Seferian-Jenkins over the middle. ASJ seemed surprised by the pace of the throw, which is odd given that he's had lots of private practice time with Jameis.
*Glennon fumbles snap. Yes, that one was on Glennon. Joe's not being harsh.
*Mike Evans is locked down deep by Johnthan Banks. Mr. Banks has a swagger to him this training camp.
*FLAG! Garrett Gilkey false start. What's interesting about these false start penalties is that they don't rattle Jameis. He never breaks focus and orders the linemen and everyone else back into position to re-run the play immediately. Very telling stuff.
*Koetter seems to be trying to keep guys off guard. Players are constantly substituting but Koetter jumps in and yells "same group" a few times and Jameis barks a play.
*King catches three in a row from Jameis but then fumbles the third. Just can't do that as a bubble player.
*Danny Lansanah is at it again, getting his mitts on a short throw from Jameis, a near pick.
Stick with Joe, as always, for so much more from training camp. Joe caught up with several players , Koetter, and had private time on the field with Ronde Barber.